Network:

Bravo

Series Premiere Date:

Nov 25, 2018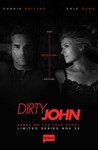 until day of season premiere
Summary:

The first season of the anthology series created by Alexandra Cunningham and based on Los Angeles Times reporter Christopher Goffard true crime podcast focuses on Newport Beach interior designer and single mother Debra Newell (Connie Britton) who falls for a con man posing as a doctor named

The first season of the anthology series created by Alexandra Cunningham and based on Los Angeles Times reporter Christopher Goffard true crime podcast focuses on Newport Beach interior designer and single mother Debra Newell (Connie Britton) who falls for a con man posing as a doctor named John Meehan (Eric Bana).

…

Expand

Genre(s):

Drama

,

Suspense
Season 1 premiere date:

Nov 25, 2018

Episode Length:

60
A dazzling matchup of pulp and prestige. ... Britton is perfectly cast as Debra. ... As Meehan, the actor [Eric Bana] pivots from charming to chilling and back with astonishing ease. [16 Nov 2018, p.45]

The main problem with Dirty John, though -- both the character, and the series -- is that as structured here, his web of lies begin unraveling pretty quickly.

There are so many opportunities to flesh out both John's story and the complicated and tragic Newell family history, and so far, the show eschews them in order to keep plugging away at the story as once written.

The people and places--from the penthouse apartment Debra initially shares with Veronica to the beachside house she impulsively rents to hole up with her new beau--are all there, but the show doesn't dig any deeper.

There's not a lot of nuance to be found here, with any trace of psychological depth replaced by cheesy love montages and paint-by-numbers confrontations. We're given no sense of why Debra is making these terrible decisions... over and over and over again.