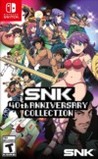 Summary:

2018 marks the 40th anniversary of legendary studio SNK. To celebrate this extraordinary milestone, a variety of classic arcade games from SNK's golden age are coming back together in one anthology on Nintendo Switch™. SNK 40th ANNIVERSARY COLLECTION is packed full of retro games and a

2018 marks the 40th anniversary of legendary studio SNK. To celebrate this extraordinary milestone, a variety of classic arcade games from SNK's golden age are coming back together in one anthology on Nintendo Switch™. SNK 40th ANNIVERSARY COLLECTION is packed full of retro games and a treasure trove of features. Ikari Warriors...nuff said.

…

Expand
Developer:

SNK

Genre(s):

Miscellaneous

,

Compilation

# of players:

No Online Multiplayer

Cheats:

On GameFAQs

Rating:

T
Please enter your birth date to watch this video:
You are not allowed to view this material at this time.
SNK 40th Anniversary Collection - Announcement Trailer
What I hoped would be a decent collection of SNK's early gaming efforts ended up being one of the most impressive retro compilations I've encountered in recent memory. While not every game included will excite more casual players, those who do have an appreciation for the library offered here will find them presented with a level of care, concern, and passion that is too rarely seen.

While I personally already own much of SNK's NES catalog on cartridges, having portable versions of several arcade classics that I can take anywhere on my Nintendo Switch along with their 8-bit counterparts is definitely a bonus. While most of them are gems in their own right, the actual arcade cabinets can be rare and hard to come by in the wild, especially since most titles like the Ikari Warriors series had a proprietary joystick that twisted as opposed to a twin-stick shooter setup.

Putting aside a limited amount of genres, SNK 40th Anniversary Collection includes an educational value that is unrivaled in the history of retrogaming, offering the definitive learning tool for all SNK fans.

This is how retro compilations should be done. Although the emulation has a few little hiccups along the way and single Joy-Con multiplayer is sadly missing, the overall package here is wonderfully presented. Rather than just slapping a rudimentary menu over a bunch of old ROMs, it's clear there's been a lot of effort made here to catalogue an often forgotten period in one of Japan's most important game developers. As with all compilations there are a few misses, but the quality is generally high, and the supporting museum mode is an absolute treasure trove for retro enthusiasts.

Maybe the selection of titles can be a little hard to be enjoyed by the modern users, but SNK 40th Anniversary Collection stands as an example of how to make a correct nostalgic collection of videogames.

SNK 40th Anniversary Collection is a good compilation of SNK games, which will remind a lot of good memories to the fans of this brand, even if the Vs fighting and run&gun games are missing (find them on the Neo Geo Mini).

SNK 40th Anniversary Collection is an interesting package, but even with the upcoming titles to be added, I have to question its value. Luckily, this is not a full price package, but even then many gamers will doubt the value proposition, quite rightly. I'm not saying don't buy the SNK 40th Anniversary Collection, but whether you'll keep playing the game after a few multiplayer sessions with friends is questionable indeed.
So excited about all the work put into the museum and the emulation here. SNK 40th ANNIVERSARY COLLECTION has top notch quality, and features

So excited about all the work put into the museum and the emulation here. SNK 40th ANNIVERSARY COLLECTION has top notch quality, and features a treasure trove of SNK classics from the 80s.

…

Expand

Amazing collection of some of gaming's earliest gems!
The museum mode is INCREDIBLE!!!!!!!!!!!!!!!!!!!!!!!!!!!!!!!!!!
ATHENA IS STILL THEAmazing collection of some of gaming's earliest gems!
The museum mode is INCREDIBLE!!!!!!!!!!!!!!!!!!!!!!!!!!!!!!!!!!
ATHENA IS STILL THE BEST WAIFU OUT THERE

…

Expand