Publisher:

Nintendo

Release Date:

Nov 16, 2018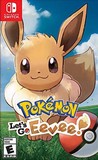 Summary:

Catch Pokémon Like Never Before. The Poké Ball Plus is a Poké Ball-shaped device that can be used to play Pokémon: Let's Go, Pikachu! and Pokémon: Let's Go, Eevee! in place of your Joy-Con. You'll be able to throw Poké Balls in-game with a flick of your wrist! In addition to motion controls,

Catch Pokémon Like Never Before. The Poké Ball Plus is a Poké Ball-shaped device that can be used to play Pokémon: Let's Go, Pikachu! and Pokémon: Let's Go, Eevee! in place of your Joy-Con. You'll be able to throw Poké Balls in-game with a flick of your wrist! In addition to motion controls, the device lights up with a variety of colors, vibrates, and plays sounds. With the Poké Ball Plus, you can also take one of your favorite Pokémon from these games for a stroll as you go about your daily life in the real world. The Poké Ball Plus even works as a Pokémon GO Plus when playing Pokémon GO.

Pikachu or Eevee:
Which Will You Choose?

Pokémon: Let's Go, Pikachu! and Pokémon: Let's Go, Eevee! bring the experience of a classic Pokémon RPG to Nintendo Switch with gameplay that is easily approachable for newcomers to the series, but is also deep enough to keep veteran Trainers on their toes.

The games also have two-player simultaneous play, so you can take the journey with a friend! And there's a deep connection between Pokémon: Let's Go, Pikachu! and Pokémon: Let's Go, Eevee! and Pokémon GO, so fans of the hit mobile game will find even more to enjoy.

…

Expand
Developer:

Game Freak

Genre(s):

Action RPG

,

Role-Playing

,

Trainer

# of players:

Online Multiplayer

Cheats:

On GameFAQs

Rating:

E
Please enter your birth date to watch this video:
You are not allowed to view this material at this time.
Pokemon Let's Go, Pikachu! And Let's Go, Eevee! - Gym Leaders, Elite Four And Familiar Faces Official Trailer
Pokémon Let's Go, Eevee is the genesis of a new beginning for the Pokémon series, giving players of both the traditional handheld games and newcomers alike, or fans of Niantic's Pokémon Go, the best of both worlds.

Pokémon Let's Go, Pikachu! and Let's Go, Eevee! are a clear example that it's possible to reinvent yourself modifying the essence with novelties such as the direct capture of wild Pokémon, even improve it, offering a much more accessible game experience capable of satisfying new and veterans players.

Excited though I am for next year's fully-fledged Gen 7 Pokemon games, which will surely return wild battles and bring a slew of new monsters, Let's Go is a worthwhile adventure in its own right, and in fact I hope the main games benefit from some of innovations in this simpler but more modern experience. The original genius at the core of Pokemon — replacing the spreadsheets and stat charts of the standard RPG with cute creatures you nurture and grow — still shines through here, it's just in a form that anyone will be comfortable playing in 2018.

Pokémon: Let's Go, Pikachu! and Let's Go, Eevee! are beautiful reimaginings of a video game classic, updating a 20-year-old game in ways which make it infinitely more accessible and user-friendly for a modern audience, while keeping the magic first discovered all those years ago.

Pokémon Let's Go is an experience that's more concerned about capturing the magic of living alongside these captivating creatures than being a hardcore game — and it's all the better for it.

It should not be denied that the diptych can be a very good entry point for novices, a modern bridge that allows it to move from Pokémon GO to a "more videogame" experience without getting lost in the network of technicalities proposed by the recent RPG episodes.

Let's Go, Pikachu! and Let's Go, Eevee! represent a different line in the Pokémon series. Reflecting a more accessible take, these two games make the experience more open to new players, while keeping several nostalgic and legacy factors intact for seasoned veterans. While not all is a resounding success, namely when it comes to its limited online component, uninteresting motion controls and an overall level of challenge that is below expectations, some of the games' new elements are more than likely to bring a fun, enjoyable time to players of all backgrounds.
First of: the user review score triggers me! this game does not deserve an 5!!!

I played 8 hours straight once i got the game with theFirst of: the user review score triggers me! this game does not deserve an 5!!!

I played 8 hours straight once i got the game with the pokeball. i really like the ball even tho i wish you could take off the strap (I'm not dumb enough to throw that thing at my screen) The motion controls work very well but I wish the ball had more buttons (you have to shake it to press Y).

onto the game though:
For what it's supposed to be it's a 10/10 for me. It's a kanto remake with a long postgame! Evrery single interaction with eevee is the most wholesome thing on earth! The game is a little easy but not as easy as everyone is portraying it to be. I had some pokemon die a lot but not my whole team. the world looks absolutely beautiful, the music is amazing the pokemon scaling and them following you is what we wished for for years and now no one's even acknowledging it... why? I also love the removal of random encounters because in every pokemon game I found myself just running away from everything felling like my time is being wasted. I also surprisingly like the pokemon go catching mechanic!
A negative point is maybe the way the npcs move in cutscenes: you find them moving in one direction, turning and moving on instead of just going diagonally. And the 2 player mode really isn't as cool as it was portrayed in the trailers. it makes the game wayyyy to easy because every battle is a two on one. they could have easily made it so that trainers who have more than one pokemon would send out two at a time.
that's what makes it a 9/10 instead of a 10/10 for me because i was really hyped to play the game all the way with my pokemon loving friend that doesn't have a switch.

All in all this is an amazing experience and I'm not even remotely done with the main story!

Edit: so i played a lot more now and I gotta change it to a 10/10 because the game just got so much more difficult!! All my pokemon are underleveled even though i battled almost every trainer and caught a looot of mons! i had my whole team except one pokemon die twice and one of those times my Mew only had 10 hp left

…

Expand

Un juego que sorprende de manera positiva, es mas pokemon clásico de lo que pensaba, tiene varias mecánicas nuevas y el nivel de dificultad

Un juego que sorprende de manera positiva, es mas pokemon clásico de lo que pensaba, tiene varias mecánicas nuevas y el nivel de dificultad esta bien balanceado

…

Expand

Mejor juego para empezar.
El Remake del mejor juego de la historia en Pokemon :)

Not sure what the hype is all about, it's a horrible game with rehashed graphics and an awful to play adventure. I really got bored with this

Not sure what the hype is all about, it's a horrible game with rehashed graphics and an awful to play adventure. I really got bored with this game and will probably not buy this for my sister who is in middle school.

Older Pokemons were kind of complex with the various systems like EV, Breeding, Random Elements, and natures. This gave us the option to use these mechanics so we could have deeper gameplay or ignore them to have a simple enjoyable experience. If you want a shallow, mindless game with no gameplay freedom whatsoever, then this game is for you.

…

Expand

I've been impressed by how unenjoyable this game is : the soundtrack is abysmal, the game has ugly visuals, these interesting random battles

I've been impressed by how unenjoyable this game is : the soundtrack is abysmal, the game has ugly visuals, these interesting random battles aren't there anymore. It's ugly, it's depressing, it's boring!

Pokémon at its worst!

…

Expand

Gotta catch em' all, except this time it's not about the monsters but gullible collectionists falling in the mew paywall scam. Sickening that

Gotta catch em' all, except this time it's not about the monsters but gullible collectionists falling in the mew paywall scam. Sickening that a company would turn on the series' motto and philosophy just to make more money.

…

Expand

The only new mechanics this games have are pokemon spawning in the overworld and the capture method, they are ideas that i'd like in a correct

The only new mechanics this games have are pokemon spawning in the overworld and the capture method, they are ideas that i'd like in a correct game design.
On the other hand this games step back on a lot of other mechanics: deformed art style, day-night cycle removed, all the competitive aspects of the game have been removed (abilities, breeding, items). I don't care about the target of these games but in my eyes this is unacceptable and a symptom of laziness on GF's part.
I don't want GF to hold my hand during the entire game, i want challenge. They should have made a game where competitive is accessible by more people, they should have introduced mechanics to make the training of competitive pokemon faster. i don't want to talk about pokeball plus and GO connectivity, i think they are garbage.
I feel GF is making fun of us veterans, i can't see anything of what i love about pokemon in these games which recycle an old region, only add a few new mechanics and trashes a lot of consolidated mechanics from 20 years of franchise.
I think I'll play Zelda BOTW since i didn't finish it, perhaps i'll start master mode (yes GF that is a good game, and i'm not talking about the open world, i am talking about the technical aspects of that game, if pokemon ever reached that level i would be the happiest man in the world. I know it will never happen but dreaming is beautiful). I'm waiting with pleasure the 2019 titles with little hope for a change compared to the last years.

…

Expand