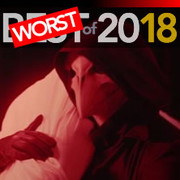 These were the lowest-scoring video games (for any platform) released during 2018.
Insurgency: Sandstorm

Release Date:

December 12, 2018

Insurgency: Sandstorm is a team-based, tactical FPS based on lethal close quarters combat and objective-oriented multiplayer gameplay. Experience the intensity of modern combat where skill is rewarded, and teamwork wins the fight.

Project Warlock

Release Date:

October 18, 2018

Project Warlock is a first person shooter that fans of Doom, Hexen and Wolfenstein cannot miss. It serves you an exploding cocktail of bullets, spells and monsters. In Project Warlock you battle through 60 levels of non stop action packed with bloodthirsty enemies and challenging bosses. The game offers not just firepower, but perk-based character development, weapon upgrades and unlockable spells system.

GRIS

Release Date:

December 13, 2018

Gris is a hopeful young girl lost in her own world, dealing with a painful experience in her life. Her journey through sorrow is manifested in her dress, which grants new abilities to better navigate her faded reality.

RimWorld

Release Date:

October 17, 2018

A sci-fi colony sim driven by an intelligent AI storyteller. Inspired by Dwarf Fortress and Firefly. Generates stories by simulating psychology, ecology, gunplay, melee combat, climate, biomes, diplomacy, interpersonal relationships, art, medicine, trade, and more.

Mutant Year Zero: Road to Eden

Release Date:

December 4, 2018

A tactical adventure game combining the turn-based combat of XCOM with story, exploration, stealth, and strategy. Take control of a team of Mutants navigating a post-human Earth. Created by a team including former HITMAN leads and the designer of PAYDAY.

TSIOQUE

Release Date:

November 7, 2018

TSIOQUE is a dark but playful Point & Click adventure, hand-animated in meticulous, frame-by-frame 2D. Escape the clutches of an Evil Wizard and discover the secrets hidden within the spellbound castle of your ancestors. We take the role of princess Tsioque, imprisoned in a castle overtaken by the Evil Wizard.

CrossCode

Release Date:

September 20, 2018

A retro-inspired 2D Action RPG set in the distant future. CrossCode combines 16-bit SNES-style graphics with butter-smooth physics, a fast-paced combat system, and engaging puzzle mechanics, served with a gripping sci-fi story.

Warhammer 40,000: Mechanicus

Release Date:

November 15, 2018

Take control of one of the most technologically advanced armies in the Imperium - The Adeptus Mechanicus. As Magos Dominus Faustinius, you'll lead the expedition on the newly rediscovered planet of Silva Tenebris. Manage resources, discover long-forgotten tech, plan tactical operations using the Noosphere technology and control your Tech-Priests every move. Your every decision will shape the missions ahead and ultimately decide the fate of the troops under your command. However, choose your path carefully - the Imperium depends on it. * Augment Flesh is weak! Upgrade your Tech-Priests limbs with mechanical augments made from the blessed metals of the Omnissiah. Customize your team with hundreds of possibilities, creating a squad to suit your playstyle. * Difficult Decisions Make tough decisions that will forge the future from your Ark Mechanicus, The Caestus Metalican, and send you towards alternate endings for a truly unique playthrough. * Experience the Noosphere Use the Adeptus Mechanicus' evolved human cognition to scan unexplored tombs for valuable data in order to gain a tactical advantage over your enemy. * The Library A compelling story written by Black Library author, Ben Counter, specifically crafted to fit the unique personality of the Adeptus Mechanicus faction.

Mega Man 11

Release Date:

October 2, 2018

Thirty years ago, in 1987, a super robot named Mega Man was created. In 2018 after 30 years of unforgettable adventures the fight for everlasting peace continues! The tight action-platformer gameplay that made the series a success is alive and well. To save the day, the Blue Bomber must battle Robot Masters and take their powerful weapons for himself, which now changes the hero's appearance with new levels of detail. A new, vivid visual style refreshes the series' iconic colorfulness, combining hand-drawn environments with detailed, 3D character models.

Gwent: The Witcher Card Game

Release Date:

October 23, 2018

In GWENT, gamers clash with their friends in fast-paced duels that combine bluffing, on-the-fly decision making and careful deck construction. The game is played over a best-of-three series of rounds, as players unleash their hand by slinging spells and diverse units with special abilities and use clever tricks to deceive their opponents.